Hey Space Placers!
Please read yesterday's blog before this one for background.
The X5 (Extreme Class) event from Sunspot Group 1429 was so powerful that the Sun experienced a "tsunami" shock wave that is plainly visible in the video here:
http://www.youtube.com/watch?v=4xKRBkBBEP0&feature=player_embedded
The true effect on the Earth has yet to be determined but there is the possibility of a G3 (strong) geomagnetic storm:
G3
Power systems:
voltage corrections may be required, false alarms triggered on some protection devices.
Spacecraft operations:
surface charging may occur on satellite components, drag may increase on low-Earth-orbit satellites, and corrections may be needed for orientation problems.
Other systems:
intermittent satellite navigation and low-frequency radio navigation problems may occur, HF radio may be intermittent, and aurora has been seen as low as Illinois and Oregon (typically 50° geomagnetic lat.)**.
Get space weather updates here:
http://www.swpc.noaa.gov/
Sunspot Group 1429 may still produce additional solar flares and is now almost pointed directly at Earth: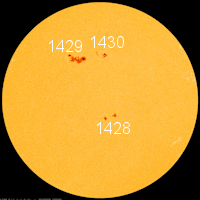 More to come as the Sun is just beginning solar maximum!
Sky Guy in VA