Hey, Space Placers!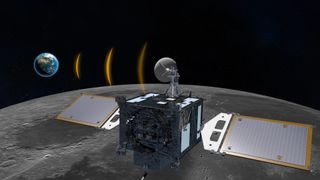 The Korea Pathfinder Lunar Orbiter, named Danuri will take valuable measurements of the moon's surface.
(Image credit: Korean Aerospace Research Institute (KARI))
South Korea is set to launch its Korea Pathfinder Lunar Orbiter (KPLO), officially named Danuri. It is the Korea Aerospace Research Institute's (KARI) first exploratory space mission outside of Earth's orbit.
NASA will have an important lunar water seeking instrument onboard and the lunar research community is very excited about this mission.
The Moon is getting a LOT of attention with other lunar missions:
Commercial Lunar Payload Services
NASA Artemis I Launch no earlier than August 29, 2022.
Stay tuned!
Sky Guy in VA