Hey, Space Placers!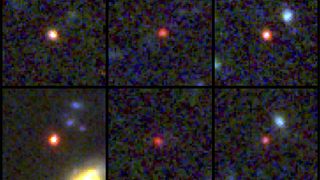 These six galaxies may force astronomers to rewrite cosmology books. (Image credit: NASA, ESA, CSA, I. LABBE)
James Webb Space Telescope (JWST) is making observations that are "breaking our Universe" as we know it.
How?
By finding massive and compact galaxies that are only 500 million years old.
This is a totally unexpected (and very exciting if confirmed by more observations) finding.
Here are two articles to get you up to speed.
https://www.space.com/james-webb-space-telescope-giant-distant-galaxies-surprise?utm_term=1A1238DB-D1A8-4DE2-8262-81672DE2FA7D&utm_campaign=58E4DE65-C57F-4CD3-9A5A-609994E2C5A9&utm_medium=email&utm_content=8B99A8C8-351E-4C82-A942-323B47E94E63&utm_source=SmartBrief
https://cosmosmagazine.com/space/massive-young-galaxies/?utm_source=rss&utm_medium=rss&utm_campaign=massive-young-galaxies&utm_source=Cosmos+-+Master+Mailing+List&utm_campaign=fb43ac355a-RSS_EMAIL_CAMPAIGN&utm_medium=email&utm_term=0_3f5c04479a-fb43ac355a-180472481&mc_cid=fb43ac355a&mc_eid=a8951a1af1
JWST is doing exactly what astronomers hoped it would do - make observations that make new discoveries that require new thinking.
Sky Guy in VA
PS Be sure to watch the planetary dance in the West as it gets dark after sunset. Jupiter and Venus will be closest 3/1/23.