Hey, Space Placers!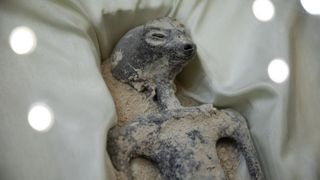 One of the two 'non-human' beings displayed to the media is seen during a press conference of Mexican UFO personality, Jaime Maussan, at the Camino Real hotel, in Mexico City, Mexico on September 13, 2023. (Image credit: Daniel Cardenas/Anadolu Agency via Getty Images)
VIA SPACE.COM
As the appointed independent panel on UAPs - see my recent blog - was releasing its report at a NASA press conference, a highly probable hoax was hitting the news media circuit.
A Mexican press conference which included the country's Congress, had displayed two alleged alien mummies - all put together by a purveyor of "alien remains" hoaxes.
I find it hard to believe that the Mexican press conference WASN'T timed to take place just before the UAP Report's release.
The contrast between the two events couldn't be more telling - scam vs science.
It highlights what is a critical requirement for the NASA UAP team - overcoming sensationalist scams and fringe elements with scientific rigor and total transparency.
Sky Guy in VA